EYC Faculty Research Interests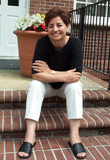 Dr. Hengameh Kermani, associate professor of education joined the faculty at the Watson College of Education in 1995. She received all three of her degrees from University of California at Santa Barbara in Developmental Psychology and Sociology, Early Childhood Education, and Educational Psychology with emphasis in Human Development. Prior to her move to Wilmington, Hengameh worked as a classroom teacher with children ages 2 through 9 in a multicultural context. During her tenure at UNCW, she served as a program coordinator for six years and currently teaches: EDN 382 – Literacy Development in the Early Years, EDN 430 - Preschool Curriculum, EDN 463 - Child, Family and Teacher Relations, EDN 460 - Administration of Preschool Programs, EDN 384 - Creating Preschool Environments, and EDN 465 - Practicum in Education of Young Children. Her research in the past 10 years has focused on maternal teaching strategies and their impact on children's problem solving abilities, family literacy, peer-tutoring, and impact of technology on learning and teaching.
---
Dr. Amelia Moody is an assistant professor of early childhood and special education and joined the Watson College of Education in 2008. She received her Ph.D. in Special Education from The University of Virginia in 2007. She holds a M.Ed. in Early Childhood Special Education from the University of Virginia and a M.S. in Counseling Psychology from Loyola College. Before coming to UNCW, Dr. Moody taught early childhood and special education courses at the University of Virginia and served as a research assistant on two federally funded grants in the Preschool Language and Literacy Lab. Dr. Moody started her teaching career as an Applied Behavior Analysis therapist at a school for autism. Eventually, she worked as a public school teacher for children with disabilities in preschool and elementary schools in Virginia. In the EYC program at UNCW, Dr. Moody teaches courses in both the early childhood and special education departments. Her research interests include the use of assistive technology to enhance language and literacy skills in young children.
---
Karen LaRue is an adjunct faculty member of the EYC department.  She graduated from UNC Wilmington with degrees in Early Childhood Education, Pre-school Education and a Master's Degree in Language and Literacy.  Prior to working at UNCW, she was a classroom teacher in New Hanover County Schools for over 33 years, teaching grades pre-K through six and focusing on at-risk children.  Mrs. LaRue has taught EDN 424-Child Guidance, EDN 227-Aesthetic Development, EDN 384- Creating a Preschool Environment, EDN 380- Play and the Creative Arts, EDN 388L- Kindergarten Field Experience and EDN 465- Practicum in Education of Young Children.